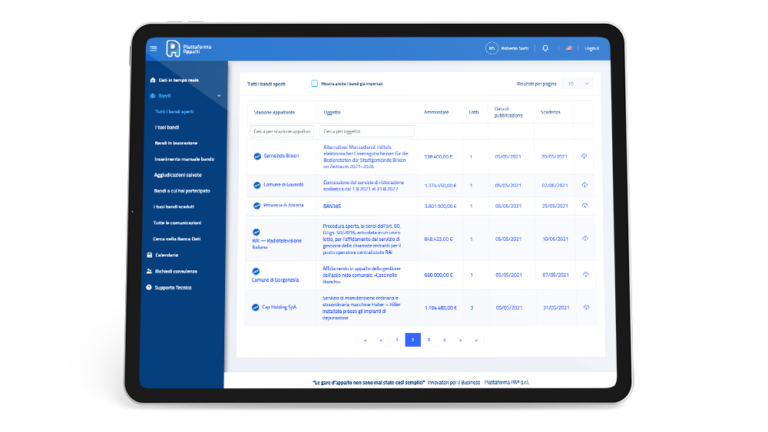 PiattaformaPA is the first software fully designed to help its users to manage the process necessary to submit a bid for a tender. Monitoring of open tenders, analysis of requirements with the team / customer / partner, compilation of documentation, project time management and reporting of the outcome of the tender.
No, it's not. The software is sold in annual licensing mode with one-time payment or in monthly recurrent payments.
he cost of the annual software license depending on the independent access your company needs (for example two independent users who manage their own platform to work; four independent users; ten users; and so on).
Of course, you can decide to pay for your license through a single annual solution, two half-yearly solutions or in monthly recurrent payments.
Of course, you just need to remember your login credentials … PiattaformaPA is compatible with any system.
Absolutely not, we relieve your computer of various folders and documents by offering you a cloud storage space included in your package.
No problem, PiattaformaPA team partner is highly specialized in tenders and in the preparation of all documentation (from the administrative one to the technical one). Simply request the support of a dedicated consultant from PiattaformaPA, specifying what you need, and we will contact you.